Hubbard Squash Bisque with Cashew Cream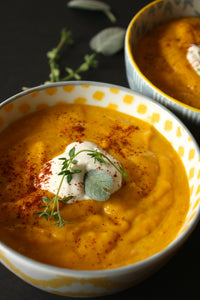 Adapted from faraway.com
TIME: 15+90 mins
SERVINGS: 4
A velvety smooth delectable soup. Best served alongside some rustic, crusty bread and a green salad. Such a perfect way to kick off the autumn/winter season!
INGREDIENTS:
1 cup cashews, soaked overnight
3 Tbsp. ghee, or coconut oil
3 small carrots, chopped
2 celery sticks, chopped
1 leek, washed thoroughly chopped
2 cloves garlic, minced
2 leaves of fresh sage, minced
2 sprigs of thyme, leaves removed from stem
¼ tsp. nutmeg
¼ tsp. cayenne
2 cups cooked Golden Hubbard Squash (or Butternut) puree
½ cup cashew cream (instructions below)
4 cups low sodium vegetable broth
sea salt
pepper
STEPS:
To make cashew cream: soak cashews overnight, rinse drain. Add soaked cashews one cup filtered water to a high speed blender blend until smooth.
Quarter, seed roast the squash at 350 degrees for 1 hour, or until tender. When cool, scoop out the flash puree in a food processor, Depending on the size of the squash, should yield 2-4 cups (mine made a little over 2 cups). In a large soup pot or dutch oven, melt the ghee or coconut oil cook leeks, garlic, carrots celery over medium heat, until softened, about 10 mins. Add sage, thyme, nutmeg, cayenne, salt pepper to taste. Stir in the squash cashew cream. Add vegetable stock, cook for 30 minutes over medium-low heat. Blend with an immersion blender for a smooth creamy bisque. Top with a dollop of cashew cream, fresh herbs spices (smoked paprika is nice).