Baked Kumara with Chives & Vegan 'Cheese' Sauce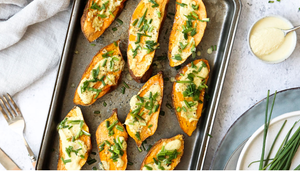 Contributed by: from Ceres Organics collection
Time: 15+40
Servings:
Easy, no-fuss kumara bake that is nutritious (high in Vitamin As due to the kumara) and great for anyone on a plant-based diet as this sauce is cashew based. Makes a great side or you can have it as your main – just add any toppings such as avocado, salad greens, beans etc!
Ingredients:
'CHEESE' SAUCE
1/2 cup raw cashew pieces, soaked overnight
3 tbsp savoury yeast flakes
1 small garlic clove, crushed
1 tbsp lemon juice
7 tbsp of water
Pinch of salt and pepper to taste
KUMARA
7 Orange Kumaras - mid sized
 Coconut (high heat) cooking oil, or any roasting oil
1 bunch chives, chopped, or herbs of your choice
Equipment:
 ​Food processor or blender
Preparation:
1. Turn your oven on to bake at 180C.
2. Prepare your kumara by cutting in half length-ways and placing it on your baking tray. Drizzle your desired roasting oil with some salt and pepper then place in oven to bake for 40minutes until soft.
3. In your food processor or blender, combine your cashews, savoury yeast, lemon juice and water and blitz until creamy. If this isn't a creamy consistency, add water slowly until you get the right consistency. Flavour with salt and pepper to taste.
 4. Once your kumara is ready, take this out, drizzle with the sauce and top with freshly chopped chives.